Commercial Trucking and Semi-Truck Accidents Attorney in Bozeman, Montana
Contact us if you or someone you care about was hurt or killed by another's negligence in a commercial motor vehicle crash. Commercial trucking accidents are some of the most devastating crashes that occur in the United States. Each year, innocent people are hurt or killed by careless, negligent, and malicious commercial motor vehicle drivers and those who put them behind the wheel. The Federal Motor Carrier Safety Administration (FMCSA) tracks collisions involving commercial motor vehicle in the United States. In 2020, Montana had the third highest fatality rate in the United States for large truck and bus involved collisions (per miles driven). This rate was nearly double the national average.
That same year, there were 4,588 police-reported fatal large truck and bus crashes in the United States according to the FMCSA. These collisions resulted in at least 4,965 deaths. And the number of fatal crashes involving large trucks is increasing. The FMCSA reports there was a 27-percent increase in fatal large truck crashes from 2010 to 2020. Those who drive cars, trucks, and SUVs are often unable to withstand the excessive impact of a commercial truck or semi-truck. Individuals who are injured during accidents involving commercial trucks are more likely to suffer serious bodily injury or death. These accidents can cause extensive property damage even when they are not fatal. 
If you were injured by a negligent commercial motor vehicle driver, you will need to determine which parties could be liable for your injuries. This is often far more complex than it may seem on the surface. Speaking with a Montana personal injury attorney will help you determine who may be liable for your injuries. This may require investigating half a dozen or more commercial trucking entities who are related to the commercial motor vehicle and its shipment.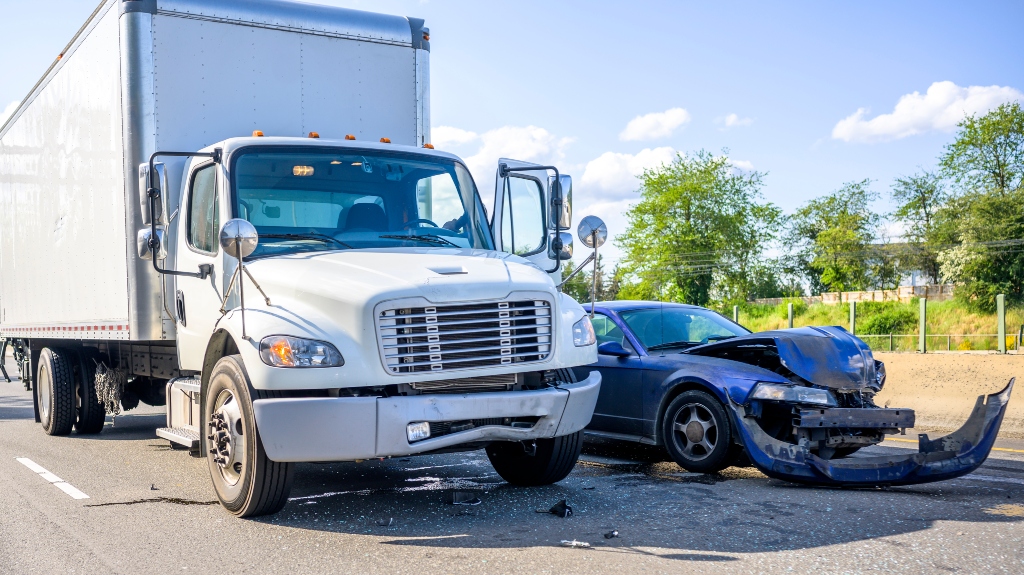 Commercial Trucking Accidents
A commercial trucking accident may involve a commercial truck or a private vehicle. The majority of commercial automobiles are heavy, large, and dangerous. Sometimes commercial trucks are carrying flammable chemicals that can cause explosions and other dangerous conditions. Even if a commercial truck is traveling at a low rate of speed, it is possible for other drivers and passengers to suffer serious bodily injuries during an accident. Some of the most common types of commercial automobiles include the following:
Semi-trucks, tractor-trailers, and 18-wheelers
School buses, city buses, and private buses
Garbage trucks and refuse trucks
Dump trucks and construction equipment
Tow trucks and car haulers
Common Causes of Commercial Vehicle Accidents
Drivers of commercial vehicles must drive with caution. If a driver of a commercial vehicle engages in negligent conduct, then it can have a serious effect on many other drivers and passengers. The following behaviors often cause commercial vehicle accidents:
Driving while intoxicated
Not following traffic signals
Driving at an excessive rate of speed
Dangerous road conditions, obstructed roadways, and poor weather conditions can also lead to commercial trucking accidents. Every driver should follow traffic laws and operate their automobiles in a reasonable manner to prevent automobiles.
Commercial Trucking Accidents are Different from Other Accidents
Commercial trucking accidents often involve employees who work for a corporation or a limited liability company. It is possible for liability to be contested in commercial trucking accidents. It can be difficult to determine which party caused the accident. Also, employers and employees may both be partly liable for contributing to the commercial trucking accident. If you were injured during a commercial trucking accident, then you may be able to seek financial compensation from the driver's employer.
Some parties may challenge whether the employee was working when the commercial trucking accident happened. Oftentimes, these types of questions are resolved during trials. Some large companies may not want to negotiate regarding possible settlement offers. Speaking with a personal injury attorney can help you determine which case strategies will benefit you and your family members.
Those who drive commercial trucks are required to have commercial driver's licenses. Many federal regulations also limit the conditions under which commercial truck drivers can work. It is not permissible for commercial truckers to drive as much or as often as they choose. Specified limits are placed on how long commercial truckers can drive on the open road.