Motorcycle Accident Attorney in Bozeman, Montana
AFJ Law Firm attorney, Anthony Jackson, has been riding motorcycles most of his life. As a kid, he bought a used Kawasaki KX 80 with money he saved from mowing laws and shoveling sidewalks. He has decades of experience riding motorcycles. These motorcycles range from dirt bikes to sport street bikes to enduro adventure bikes. Anthony brings real-world experience and understanding of how and why motorcycle collisions occur and how they differ from other motor vehicle accidents. Anthony puts that experience to work for his clients who have been hurt or killed in motorcycle crashes. Few other Montana attorneys have this experience with motorcycles and motorcycle accidents. This experience has been invaluable in Anthony helping his motorcyclist clients who are injured by other's carelessness and negligence. In fact, this experience was critical in Anthony securing the largest motorcycle personal injury jury verdict in Montana history for an injured motorcyclist.
Motorcyclists are sometimes perceived as reckless and irresponsible, but many motorcycle accidents are caused by drivers of cars, trucks, and SUVs. Although motorcyclists are sometimes mischaracterized as reckless and dangerous, the truth is that motorcyclists are regular citizens who enjoy spending their free time on the open road. The majority of motorcyclists care about the safety of other motorists. It is necessary that motorcyclists have an unbiased assessment of the facts and circumstances that gave rise to their injuries. 
Many motorcycle accidents occur when a driver turns left in front of oncoming motorcyclists. Also, drivers collide with motorcyclists when they are changing lanes. Other drivers hit motorcyclists when they pass other automobiles on busy highways. Motorcyclists do not have any protective barrier between their bodies and the force of impact they experience during a motorcycle accident.
It is possible that jurors will be prejudiced toward motorcyclists due to preconceived stereotypes. If you have an experienced motorcycle accident attorney representing you then you have a chance of establishing that you did not cause the motorcycle accident.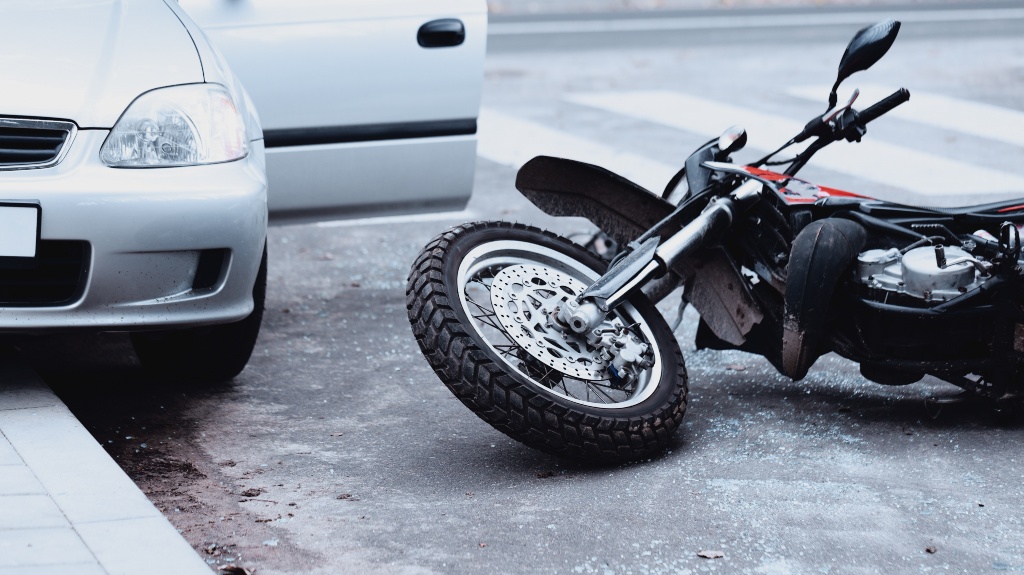 Common Causes of Motorcycle Accidents
A party may claim that they did not see the motorcyclist before the accident occurred. It is also possible that a party may claim that the motorcyclist was driving in a reckless and dangerous manner. Some of the common causes of motorcycle accidents include the following:
Speeding through a traffic light
Making sudden lane changes
Unexpected left-hand turns
Dangerous road conditions can also contribute to motorcycle accidents. Manufacturing defects and design defects can also cause a motorcyclist to lose control of their motorcycle. Motorists also may not realize that their automobiles have manufacturing defects that may cause a motorcycle accident. A motorcycle accident attorney can investigate the facts and circumstances associated with the motorcycle accident.
The Types of Injuries Suffered During Motorcycle Accidents
Motorcyclists are vulnerable due to their exposure during a motorcycle accident. Motorcyclists may suffer the following types of injuries during motorcycle accidents:
Disfigurement and amputation
What To Do If You Are Injured in a Motorcycle Accident
Many motorcycle accident victims are shocked after they suffer injuries during a motorcycle accident. Adrenaline and cortisol can cause motorcyclists to feel anxious after a motorcycle accident. All motorcyclists who are involved in a motorcycle accident should immediately analyze their environment to make sure they are protected from any risk of serious bodily injury.
You should get yourself out of the way of harm if you find yourself at risk of suffering additional injuries. If you have a helmet on your head or other protective gear do not take them off. Call 911 and report the accident. If it is possible, you should take witness statements, videos, and photographs so you can preserve this information.
A traffic collision report will be important to any future case you have against the negligent driver that caused your injuries. The officer will usually make a determination of cause and record this in the traffic collision report.
Still have questions about your motorcycle accident insurance claim and potential lawsuit? Contact us today or visit our personal injury and insurance coverage law frequently asked questions (FAQ) page.